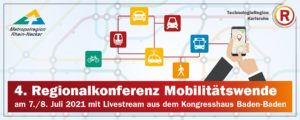 In our Youth Forum "How does Generation Z imagine the mobility of the future?" we give a voice to the generation that was born first into a completely digital world and has its own view of the issues of the future.
Experts give in two sessions on the topics "Climate-friendly energy sources for mobility". and "Digital mobility" detailed insights into current trends and developments.
The Rhine-Neckar metropolitan region (MRN) and the Karlsruhe Technology Region (TRK) have been cooperating closely for many years and, with the Regional Conference on Mobility Transition, have created an event format that promotes the exchange of experience between representatives from business, science and politics and networks the regions. The event takes place annually, alternating between the MRN and the TRK.
Wir freuen uns auf Ihre Teilnahme!