Regional Economic Development Bruchsal GmbH
The Regionale Wirtschaftsförderung Bruchsal GmbH positions and develops the Bruchsal economic region as an attractive location for start-ups, companies and innovations between the neighbouring cities of Karlsruhe, Heidelberg, Mannheim and Stuttgart.
The Regional Economic Development Bruchsal supports investors in settling here and initiates innovation projects with companies, universities and start-ups.
Service and project focuses:
– Digitisation of the regional economy
– Securing skilled workers in small and medium-sized companies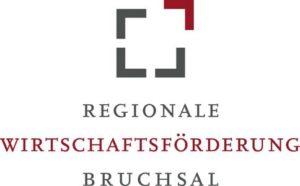 – Sustainable mobility
Shareholders are 14 cities and municipalities as well as 2 credit institutions in the north of the TechnologieRegion Karlsruhe:
Municipality Bad Schönborn, City of Bruchsal, Municipality Dettenheim, Municipality Forst, Municipality Gondelsheim, Municipality Graben-Neudorf, Municipality Hambrücken, Municipality Karlsdorf-Neuthard, City Kraichtal, Municipality Kronau, City Östringen, Municipality Sulzfeld, Municipality Ubstadt-Weiher, Municipality Zaisenhausen,
Sparkasse Kraichgau, Volksbank Bruchsal-Bretten eG.
Werner-von-Siemens-Str. 2-6
76646 Bruchsal
Tel: 07251 93256-0
Fax: 07251 93256-29
eMail: info@wfg-bruchsal.de
URL: www.wfg-bruchsal.de